Main Content
Upcoming Quarterback Skills Training
In Las Vegas with Coach Vinny Passas,
the "Quarterback Guru"

Join Coach Vinny for QB training in Las Vegas
May 2020
Learn More
Scroll Down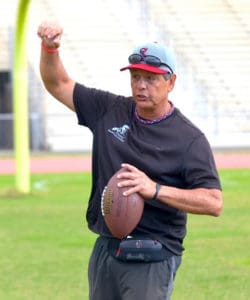 Coach Vinny provides premier football clinics and camps to help train and prepare young quarterbacks and wide receivers for high-level performance at the high school, college and professional football levels.
His students include Heisman Trophy winner, first-round NFL draft pick and starting NFL quarterback, Marcus Mariota (University of Oregon, Tennessee Titans), college football National Championship Game Offensive MVP, Tua Tagovailoa (University of Alabama), two-time AAC Offensive Player of the Year, McKenzie Milton (University of Central Florida), and NCAA passing records-breaker Timmy Chang (University of Hawaii).
Arizona QB Skills Camp was a Big Success
The recent Arizona Quarterback Skills Camp was a big success.
We will be planning more camps around the country in the future, so check back.
What people are saying about the clinics
"Comparing Coach Vinny with the camps out on the mainland, he runs one of the best camps in the country.
You've got to give Vinny a lot of credit for what he has done. He doesn't even have a son out there,
and he puts in a lot of time with those kids. He's really good at what he does."
Galu Tagovailoa,
Father of 2018 Heisman finalist and
Alabama Crimson Tide quarterback Tua Tagovailoa

"Having trained numerous collegiate and NFL players, I have been fortunate to work with some of the best coaches in football. Coach Vinny has established himself as one of the most knowledgeable and detail-oriented quarterback coaches in the industry. His passion for continuing to improve as a coach in order to enhance the performance of his young athletes is rivaled only by his undeniable core values."
Kenny Patton
Director, Patton Sports Performance

"There's no one better than Vinny Passas. Everything I know about quarterback play started with Vinny." Timmy Chang Four-time All-Western Athletic Conference player at Hawai'i Assistant Coach, University of Nevada at Reno
Private Training
Coach Vinny also offers private one-on-one or small group performance training sessions at various locations around the country.
Join Coach Vinny in Las Vegas during the month of March for private training.
Contact Coach Vinny
If you would like to contact Coach Vinny about clinics and camps, or private training, click on the link below.