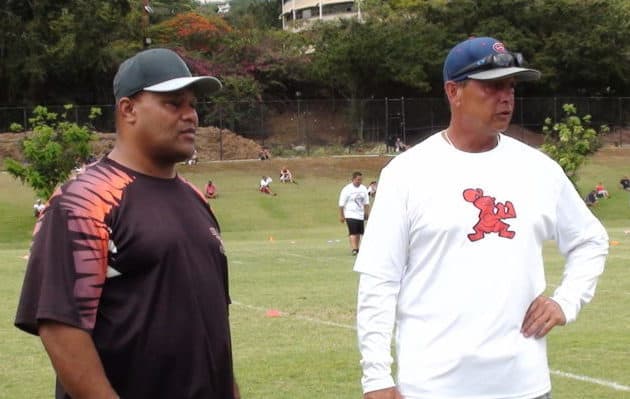 January 9, 2018 – The hallowed list of quarterback greats who have gone to work at Saint Louis grows and grows.
Jason Gesser. Darnell Arceneaux. Tim Chang. John Hao. Joel Lane. It is almost endless. It's no coincidence, probably, that nearly all have kept the fire burning by entering the coaching profession at the high school or college levels. The students become teachers.
More recently, it has been the likes of Marcus Mariota, Tua Tagovailoa and Chevan Cordeiro who have lit the stage up, leading the Crusaders to state championships. Tagovailoa's epic performance on the biggest stage, leading Alabama in a comeback, 26-23 overtime win over Georgia on Monday night has the nation stunned and headlines like "A Legend Is Born" blowing up the internet.
The common denominator? Cal Lee, Ron Lee and, the hands-on guru/quarterback whisperer, Vince Passas. Eight years ago, as a junior backup quarterback, Mariota was so fundamentally impressive in Crusader practices that then-Oregon QB coach Mark Helfrich offered him a scholarship on the spot. The following year, Mariota became a senior and led Saint Louis to a state crown.
At the time, Passas said that Mariota had the traits of all the championship QBs of Saint Louis' history. But the train keep churning forward, and aspiring passers keep wheeling over to Passas' "Get Better" clinics on Sundays. That's how McKenzie Milton and Jordan Ta'amu met Passas. Milton was already a promising QB out of the Waipio Panthers Pop Warner program, Tagovailoa was a QB for the Ewa Beach Hammerheads — each slinger coached by his father. Milton went on to star at Mililani, and as a sophomore at Central Florida this season, led the Knights to 13-0 record and unofficial national championship.
Ta'amu quarterbacked Pearl City to title contention at the OIA Division II level and didn't rack up the prolific numbers of Tagovailoa and Milton. But he landed at New Mexico Military Institute before accepting a scholarship to Ole Miss, where he bundled up major numbers after becoming a mid-season replacement.
Now the talk is that Tagovailoa, Milton and even Ta'amu could emerge as Heisman Trophy candidates, or perhaps even win the coveted honor as Mariota did. Coach Passas chatted with Hawaii Prep World on Tuesday afternoon and was featured in Wednesday's Honolulu Star-Advertiser.
Vince Passas
Saint Louis QB Coach
Class of 1974
HPW: What did you see in Tua last night as he took the field in the middle of a national championship game?
Vince Passas: I know he was in the first half, right there, visibly on the sidelines. Just taking his visual reps. That's probably the most I've seen him while I'm watching Alabama games. I don't see a lot of Alabama games, but last night you could see he was ready to roll. He was ready when his opportunity came. I was on the phone with one of my clients and my wife said, 'Hey, Tua's going in!' The first series, he had a three and out kind of deal. I thought him going in that late there my first thought was gosh I hope he gets adjusted to the speed of the game. When you're not playing a lot sometimes it takes some time to get adjusted. He made some plays and first downs.
HPW: Did you see what he saw, or vice-versa, in Georgia's defense, the coverage, the blitz packages?
Vince Passas: Pretty much they stayed in a 2 high look, split safeties. First half, I thought they wanted to stop the run and make Jalen Hurts throw the ball and beat them that way. The RBs, Jalen Hurts was the leading rusher going into the second half. Georgia said basically to beat us today you have to throw the ball. They had their gaps covered. I'm happy for Tua getting his moments there. He saw the same things that we're looking at. He did a good job there. Saban had to make that change. he needed someone to throw the ball.
HPW: For you, is it the same feeling that you had watching him on the field as a Saint Louis Crusader?
Vince Passas: It's different because this time the nation got a chance to see what Tua is like, you know. We already knew what Tua is like, but for the nation to see that's special. I have a lot of friends who say why did he choose Alabama. Jalen Hurts is SEC offensive player of the year, there's no way he's going to play. He'll sit for three years. But I take my hat off to Nick Saban for giving Tua that opportunity, and he made the most of it. Talk about a life-changing moment for 30 minutes in the second half and five minutes in overtime, his life changed in a heartbeat.
HPW: The country got to see Tua's maturity and personality.
Vince Passas: It makes me feel proud that what was taught to him at Saint Louis from the faculty, administration and our coaching staff, he's able to show respect in others, find the good in others, and he helps them get better. He's a true Crusader man.
HPW: Has anything changed in his mechanics since he left Saint Louis?
Vince Passas: Not that I could see, you know. The ball is still coming out in front of his body. He slides in the pocket really well, he moved up in the pocket really well when the rush came. he was able to move the chains, get first downs. I just thought he did an amazing job.
HPW: What was it like seeing McKenzie and Jordan at Get Better clinic? What was their progress like?
Vince Passas: They came before high school. McKenzie and Jordan, they all came when Marcus and Jeremy Higgins were in high school. McKenzie and Tua were in sixth, seventh grade. McKenzie was a hotshot quarterback from Waipio. Tua played for the Hammerheads at Ewa Beach. They had that group there. Him, Tai-John Mizutani, they were all part of that group there. Jordan was kind of sandwiched in-between Marcus and Tua. Jordan's a phenomenal story. Amazing.
HPW: We've seen plenty of McKenzie and Tua, but have you seen what Ole Miss does with Jordan? How much more could he do there?
Vince Passas: I think that's a perfect offense if they keep it. He's got a lot of RPOs, zone read with an option to run the ball or throw it. he's a real good decision maker. he can run, throws the ball extremely well. Every time I see him, he's getting better and better.
HPW: Does he remind you of anybody?
Vince Passas: Marcus a little bit, a straight up tall kind of guy, not as fast, but when they run the ball, he's fearless. He's smart, knows when to go down. Just knows when to take a hit and not to take a hit. He's pretty accurate, especially playing in that offense. Now he'll get more opportunities now that the No. 1 guy transferred out to Michigan. They're on probation and can't play any bowl games. If I got a chance I'd probably stay there.
HPW: What do you think of McKenzie's success?
Vince Passas: It doesn't surprise me. I always thought he was good. I always wondered why he didn't get more offers. When UH offered I figured everyone else would offer. (Scott) Frost was the only one who offered him, but the head coach wanted someone else. There's a lot of people out there, I guess, and they don't offer anybody when they're juniors.
HPW: Are we looking at the possibility of three Hawaii QBs becoming Heisman Trophy candidates?
Vince Passas: I would say so. Yeah. I think all three of them have the potential of it. McKenzie has a new coach coming over but he falls into that same type of system that will make him that much more valuable. For Jordan, it'll be tough but he's always a viable candidate. Of course, Tua. It's just a matter of time and he'll get his stats up. He'll just compete again with the guys around him.
HPW: Is it possible Chevan Cordeiro enters the picture?
Vince Passas: Like Tua, all he needs is an opportunity. Once that opportunity comes, we learned with Chevan when he gets it he makes the best of it.
HPW: Is there anything about the national championship game or Tua's first year at Alabama may have been overlooked?
Vince Passas: I was just happy to see that the nation got to see what we know about Tua. Now he's proven to everyone there. My favorite part of the game wasn't just the TD pass — by the way, Alabama calls that 'Seattle.' Coach Ron calls it 'Divide.' It's the same play. That's Tua's favorite play. For the three years we had it at Saint Louis, we must've repped it 20 times a day, five days a week. That's 100 times a week for months. He could've thrown it blindfolded.
HPW: It's been a Yoda-like chain of success for you and the staff at Saint Louis. Hopefully, you'll be coaching for decades more.
Vince Passas:I will. I discovered the fountain of youth. You gotta hang around young guys to stay young. You hang around old guys you get old fast.
HPW: So you don't golf then?
Vince Passas: No golfing. All you do is complain and get frustrated on the golf course. There's too much negative stuff going on.
Quarterback Whispering: QBs coached by Vince Passas
Saint Louis
2017: Chevan Cordeiro
2014-16: Tua Tagovailoa
2012-13: Ryder Kuhns
2011-12: Kawai Mook-Garcia
2010: Marcus Mariota
2008-09: Jeremy Higgins
2006-07: Micah Mamiya
2005: Cameron Higgins (also Jeremiah Masoli)
2004: Stanley Nihipali
2003: Kealii Perbera
2001-02: Bobby George
2000: Kelika Higa
1998-99: Timmy Chang
1996-97: Jason Gesser
1994-95: Darnell Arceneaux
1993: Joe Correia
1991-92: Joel Lane
1989-90: John Hao
1988: Mike Nua
Kaiser
1982: Jared Wong
1980-81: Cliff Kaneiakala
1979: Edmund Kakalia
1978: Chris Whaley
1977: Gary Keahohou
Saint Louis JV
1976: Paul Goo
(List compiled by Dave Reardon)
By Paul Honda, Hawaii Prep World