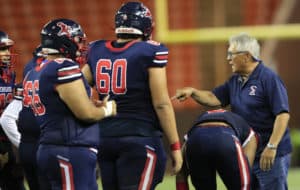 December 5, 2019 – Cal Lee wasn't feeling well for a little while before the state Open Division championship game on Nov. 29.
He missed the news conference three days before Saint Louis' 45-6 victory over Kahuku. He was also not in attendance when linebacker Jordan Botelho was presented his U.S. Army All-American Bowl jersey at the school three days after the title game.
Maybe Lee was still fighting the bug. Or maybe he went into just a little bit of a hiding period for a couple of days so he could relax after a long, strenuous and fulfilling season without having to be here, there or everywhere.
When reached by cell phone Thursday, Lee was asked if he was feeling well and the answer was a resounding yes.
Lee was also asked how this 2019 team stacks up against all of those juggernaut Crusaders teams from the past.
"They're all pretty good," was his first thought. "You think about all those teams and then you think about this team. They (the '19 Crusaders) are comparable to the rest of them, for sure."
Lee may have gotten a few leisurely days in, but it isn't going to last. The Crusaders (12-0), winners of 38 games in a row, have one more order of business ahead of them in the GEICO State Champions Bowl Series, Dec. 21 in Las Vegas.
"We've got a game, but we don't know who we're playing," Lee said. "Nothing (about an opponent) is set in stone.
"The team they're inviting (sources say it's St. Thomas Aquinas of Fort Lauderdale, Fla.) was in the same situation as us. They have to win (the Florida 7A state championship game against Edgewater of Orlando on Dec. 14). If they win, it will be them. If not them, it will be somebody else."
Saint Louis' bowl game will be one of two games played as part of the GEICO series.
"It's a tremendous honor to be chosen," Lee said. "And it's rewarding for the kids for what they've done. It's like going to a bowl game, just like in college. You feel pretty good about yourself to be invited."
Lee is hoping the rest of the Hawaii football community supports the Crusaders for the GEICO game that will be televised on ESPNU.
"Being showcased across the nation is quite a privilege and honor," he added. "Now, you're representing Saint Louis High School and the whole state of Hawaii. (For some Hawaii fans), that's (the Crusaders) your team now. We're representing you.
"It's like all the players who have done well playing football here in Hawaii, like Tua (Tagovailoa) and all the guys who have played in the NFL. You're happy for them. You don't care what school you went to. They're from Hawaii."
Lee got around to talking about his fine corps of receivers, who — along with quarterback Jayden de Laura — make life extremely difficult for opponents.
"Matt Sykes with his size and ability, Roman Wilson with his speed and elusive running, Koali Nishigaya with not the biggest stature but what he does on the field is outstanding," Lee said. "As a defender, you gotta go find him. If you're looking for the two wideouts, then here comes Koali. I'm so happy he had a great year."
There is no definite starting quarterback next year, according to Lee. Three QBs are waiting to succeed de Laura, who himself succeeded Tagovailoa.
The coach said AJ Bianco, who was out close to two months with a broken collarbone, Connor Apo and Kekahi Graham will be competing for the job.
Next year, Apo will be a senior, Bianco a junior, and Graham a sophomore.
Lee, in his 27th season as a head coach, is 296-40-5. One of the team's signature games this season came at Aloha Stadium against Bishop Gorman (Las Vegas), a 31-19 win. The Gaels fell out of the MaxPreps Xcellent 25, but still hold the top rank in Nevada despite losing in overtime to Liberty in the title game.
Saint Louis is No. 7 and St. Thomas Aquinas (13-0) is No. 5 in the Xcellent 25.
Lee's Crusaders have won four Open Division state championships in a row. The school owns seven top-tier state titles, including five with Lee as head coach.
From 1983 to '98 (before the state tournament era began in 1999), Lee led the Crusaders to 14 Oahu Prep Bowl championships, including 13 in a row from '86 to '98.