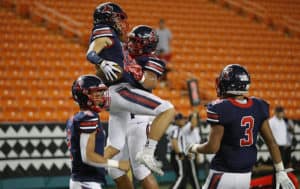 December 2, 2019 – Four-time Hawaii state football champion Saint Louis isn't done with its season just yet.
Ranked No. 7 in the nation, the Crusaders (12-0) will put their 38-game winning streak on the line in the Geico State Champions Bowl Series on Dec. 21 in Las Vegas against an opponent yet to be named.
Glenn Medeiros, the school's president, said Monday, "Our plan is to go, and we as a team, we've gotten together and we're having our final conversations (with organizers) this morning. We didn't know (until Friday) that we were going to win the state championship."
The Crusaders defeated Kahuku, 45-6, on Friday to win a fourth consecutive state title.
Saint Louis came close to playing in the same football doubleheader last year before things fell apart at the final minute.
An official announcement by the bowl series hasn't been made.
Click here to read more at HawaiiPrepWorld.com. Nick Abramo