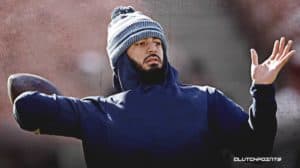 April 11, 2020 – Marcus Mariota signed with the Las Vegas Raiders last month, turning over a new leaf in his NFL career.
Mariota will obviously begin 2020 as a backup quarterback, as Derek Carr has the starting job on lock for now. But Mariota's mentor, Vinny Passas, sees an opportunity for Mariota in his new digs with the Raiders:
"He needed a change of scenery," Passas said in a telephone interview Thursday, according to Vic Tafur of The Athletic. "Some new chemistry around him. Even though he is making another change at offensive coordinator and learning a new language, it's good for him."
Mariota, who played his collegiate football at the University of Oregon, was originally selected by the Tennessee Titans with the second overall pick of the 2015 NFL Draft.
He got off to a rather strong start with the Titans, enjoying a couple of solid seasons to begin his career. As a matter of fact, in his sophomore campaign, Mariota threw 26 touchdowns and just nine interceptions.
But from that point moving forward, Mariota declined. He finished with 13 touchdowns and 15 picks in 2017, and after another rough year in 2018, he ended up getting benched in favor of Ryan Tannehill midway through 2019 before choosing to sign with the Raiders in free agency.
The good news for Mariota is that there isn't currently much pressure on him in Las Vegas, which Passas noted:
"It's also good that the Raiders don't need him right away," Passas said. "There is no rush to get the timing of the new offense down, and he can really put his best foot forward."
Whether or not the Raiders view Mariota as an option moving forward remains to be seen, but perhaps Passas is right. Maybe a change of scenery will do the 26-year-old some good.